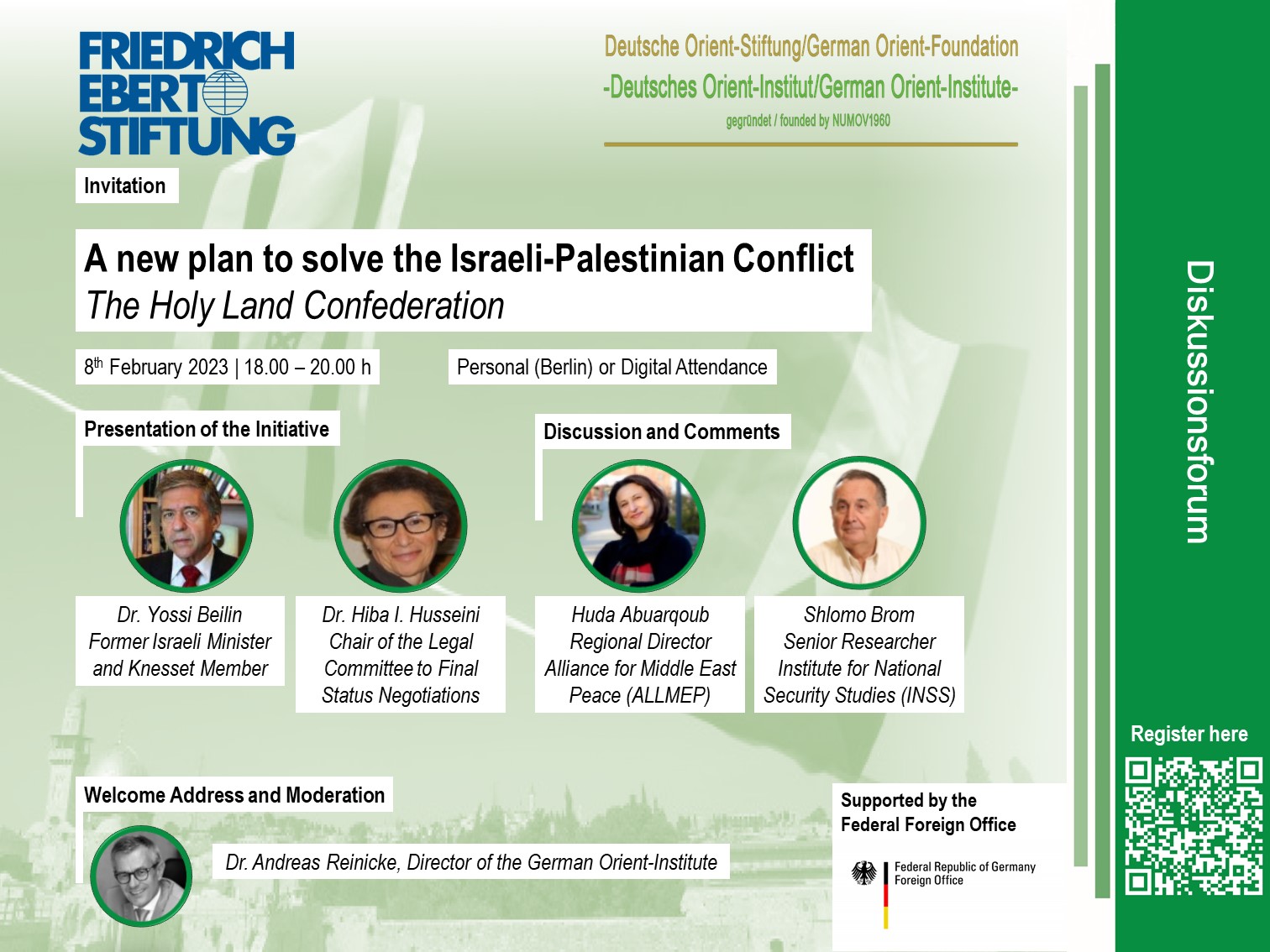 A new plan to solve the Israeli-Palestinian Conflict: The Holy Land Confederation
On 8th February 2023, 18.00-20.00h CET
The Israeli-Palestinian Conflict has been overshadowed by other, global crises in the past years. Prospects to finding a solution appear to diminish. The recent formation of a new Israeli government – following the fifth parliamentary election since 2019 – and a weakening legitimacy of the Palestinian Authority do not, unfortunately, point to an imanent negotiated and accepted solution.
On 8th February 2023 we are hosting the initiators of the Holy Land Confederation. In their initiative, they offer a new contribution to thinking about how to untangle the conflict. We look forward to hearing first hand from the initiators and discuss their ideas on the panel and with the audience.
Presentation of the Initiative
Dr. Yossi Beilin
Former Israeli Minister and Knesset Member
Dr. Hiba I. Husseini
Chair of the Legal Committee to Final Status Negotiations between Palestinians and Israelis
Discussion and Comments
Huda Abuarqoub
Regional Director of the Alliance for Middle East Peace (ALLMEP)
Shlomo Brom
Senior Researcher at the Institute for National Security Studies (INSS)
Welcome Address and Moderation
Dr. Andreas Reinicke
Director of the German Orient-Institute
Dinner will be offered afterwards.
The event will be held in English.
The event is a cooperation with the Friedrich-Ebert-Foundation and is supported by the German Federal Foreign Office.
Plesae register by filling in this form.
Speakers
Dr. Andreas Reinicke

Director of the German Orient-Institute

Dr. Hiba I. Husseini

Chair of the Legal Committee to Final Status Negotiations between Palestinians and Israelis

Dr. Yossi Beilin

Former Israeli Minister and Knesset Member

Huda Abuarqoub

Regional Director of the Alliance for Middle East Peace (ALLMEP)

Shlomo Brom

Senior Researcher at the Institute for National Security Studies (INSS)