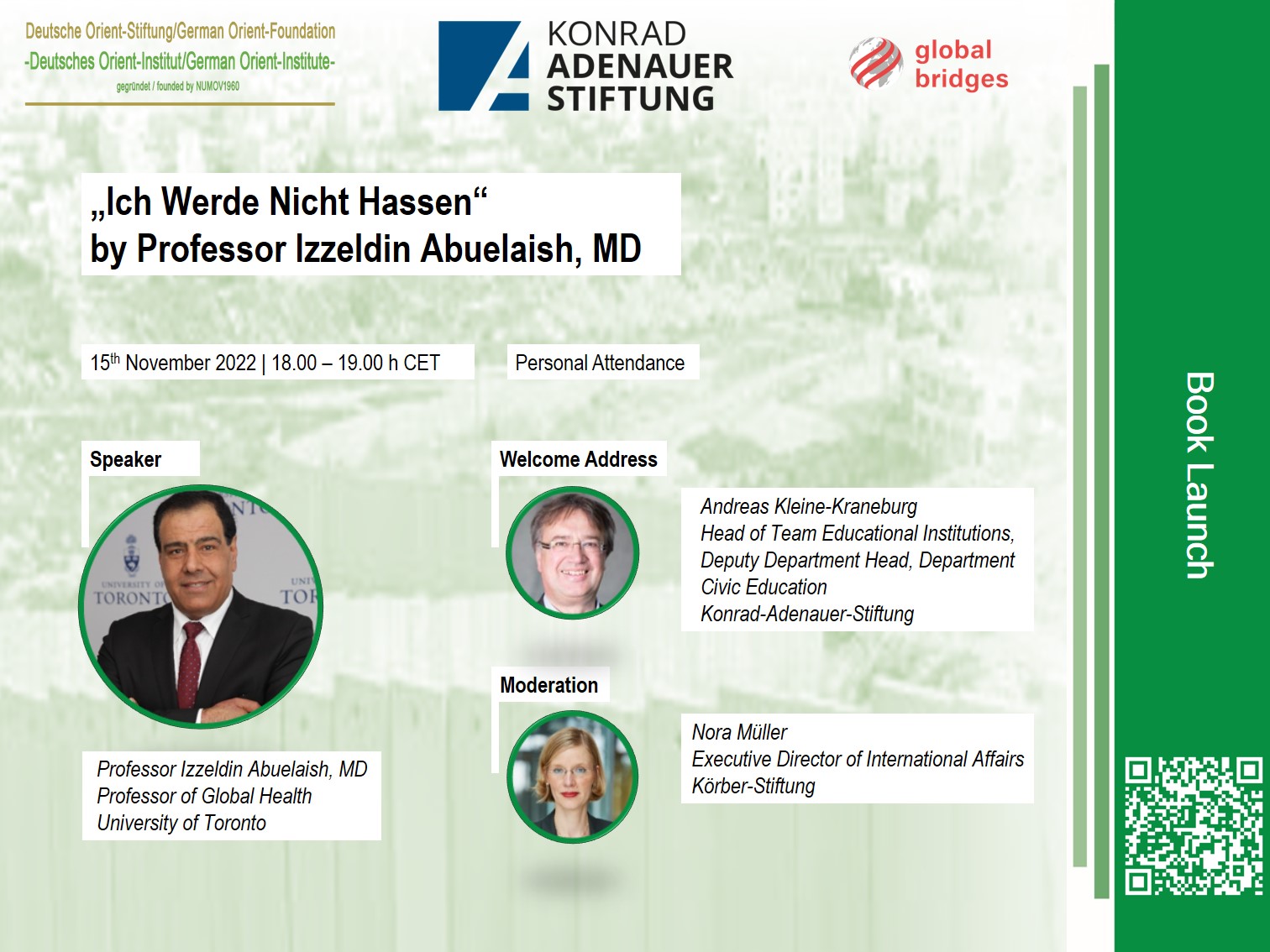 "Ich Werde Nicht Hassen" by Professor Izzeldin Abuelaish, MD
On 15th November 2022, 18.00-19.00h CET
In light of the recently released German reprint of Professor Izzeldin Abuelaish's bestselling autobiography "I Shall Not Hate" ("Ich Werde Nicht Hassen") by the publisher Langen Müller, we have partnered up with Global Bridges and the Konrad-Adenauer-Stiftung to invite the internationally recognized human rights and peace activist to Berlin to present his book.
Professor Abuelaish is a Palestinian-Canadian gynaecologist, known around the world simply as the "Gaza Doctor". Born and raised in the Jabalia Refugee Camp, he has overcome many personal hardships – including poverty, violence, and the horrific deaths of three of his daughters and a nice during the 2009 Gaza War. Instead of descending into a dark, lonely pit of grief and bitterness, Professor Abuelaish directed his anger in a positive way: As a testament to his commitment to forgiveness as the solution to conflict and the catalyst towards peace, he published the book "I Shall Not Hate: A Gaza Doctor's Journey on the Road to Peace and Human Dignity," which has achieved worldwide critical acclaim and was translated in 23 languages.
On November 15, he will talk about how he turned his back on seeking revenge or sinking into hatred, and instead called for the people of the Middle East to start talking to each other.
Professor Izzeldin Abuelaish believes that hatred is a chronic, contagious, and destructive disease. In his research, he promotes awareness about the impact of hatred on wellbeing, and how to prevent the spread of this disease through positive resilience, tolerance, compassion, and reconciliation. Through both his research and his charitable foundation "Daughters for Life," Professor Abuelaish is devoted to advancing health and education opportunities for women and girls in the Middle East. He continues to live up to the description bestowed upon him by an Israeli colleague, as a "magical, secret bridge between Israelis and Palestinians".
Welcome Address
Andreas Kleine-Kraneburg
Head of Team Educational Institutions
Deputy Department Head, Department Civic Education
Speaker
Professor Izzeldin Abuelaish, MD
Professor of Global Health, University of Toronto
Moderation
Nora Müller
Executive Director of International Affairs, Körber-Stiftung
The event will be held in English. A simultaneous translation into German will be available.
After the discussion there will be a reception.
The event is a cooperation with Global Bridges and the Konrad-Adenauer-Foundation.
If you are interested in participating please fill in this form.
Speakers
Andreas Kleine-Kraneburg

Head of Team Educational Institutions | Deputy Department Head, Department Civic Education

Nora Müller

Executive Director of International Affairs, Körber-Stiftung

Prof. Izzeldin Abuelaish

Professor of Global Health, University of Toronto